The province of Quebec is the main producer of Christmas trees in Canada, Quebec accounts for over 71% of all exported Christmas trees. In 2020, 266 Christmas tree farms were registered with the MAPAQ (ministère de l'Agriculture, des Pêcheries et de l'Alimentation du Québec). Combined, these businesses cover a total of 8 538 hectares and 51% of that land is located in the Eastern townships. According to statistics gathered in 2020, Quebec exported 1 771 944 trees for a total value of 56,2 million dollars, representing 71% of the value for all Canadian Christmas tree exports, 14% less than in 2019 (2 053 111 trees).
Furthermore, in 2020 the number of trees sold within Canada is estimated at 800 000 trees, this generated a profit of roughly 16 million dollars in the province of Quebec. The United States of America (U.S.) is the largest importer of Québec grown christmas trees: 98% of trees grown in Quebec are exported to the U.S., mainly on the east coast to New York, Massachusetts and North Carolina. Christmas trees produced in Quebec are sent across the world to decorate households in countries such as Panama, Bermuda, Barbados, Curaçao, Aruba and the United Arab Emirates.
1 Reference :  2020 balance sheet provided b the ministère de l'Agriculture, des Pêcheries et de l'Alimentation du Québec (MAPAQ) www.mapaq.gouv.qc.ca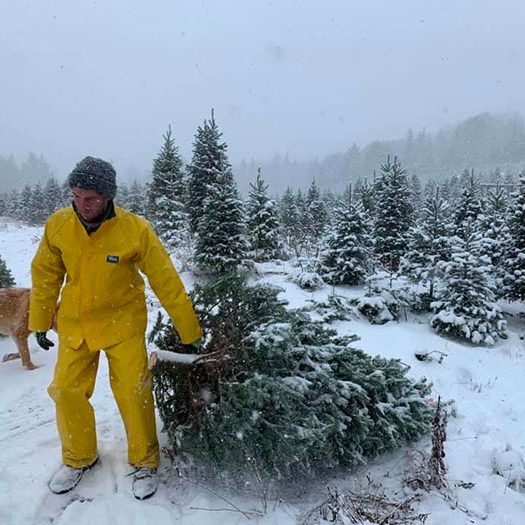 Photos credit :
Sapinière and Pépinière Downey (Larry Downey)
Here are a few statistics on christmas tree production in Quebec. These statistics were taken from a yearly MAPAQ and APANQ survey (There were 42 members who answered the survey in 2022) 
Christmas trees which are conifer trees create many benefits from an economic, environmental and a societal perspective through their production and commercialisation.
Here are a few examples.
The natural Christmas tree: a Quebec tradition
We are proud to offer you superior quality Christmas trees every year. They are grown by local farmers who are passionate about their profession and committed to delivering the best quality Christmas tree to you.
The wonderful Christmas tree scent
Remember the specific scent of a Christmas tree from your childhood. Why not relive those emotions and share good moments around a natural Christmas tree?
The environmental choice
For every Christmas tree grown and harvested, the growers plant another tree for future harvests. They ensure the sustainability of the resource for ecological, environmental and economic purposes of Christmas tree plantations while avoiding excessive logging of trees in the forest.
What are the real benefits of choosing a natural tree?
A family tradition
100% recyclable
Eco-friendly
Supports the local economy
Purifies the air with its aroma.
| Natural tree | VS | Artificial tree |
| --- | --- | --- |
| | | |
| | | |
| | | |
| | | |
| | | |
| | | |
| | | |
| | | |
| | | |
| | | |
| | | |